Rhinoplasty is a type of nasal surgery that is generally reserved for the cosmetic enhancement of a patient's appearance. It's the second most popular plastic surgery procedure and the most common facial procedure performed on patients in Sydney. It's recommended to patients who wish to alter, enhance or otherwise augment their nose or overall facial profile. 
You may be more familiar with the term nose job, which is more commonly used to refer to this type of facial surgery. Using a variety of delicate techniques, a facial plastic surgeon (or an ENT expert) can remove, alter or reshape tissue to achieve the desired results. A nose job may also refer to other nasal surgery that can help to address functionality issues, like a deviated septum or sleep apnoea symptoms. 
If you have ever felt embarrassed, uncomfortable or shy due to the size, shape or protruding nature of your nose, you might be a good candidate for rhinoplasty. The procedure can also help to address the size of the nostrils, the length or width of the nasal bridge, the shape of the tip and more. The first towards understanding whether you should get a nose job is to schedule a consultation with a licensed facility in Sydney.
Benefits of a Nose Job
Everyone has flaws; it's a natural part of life and a common facet of our appearance. For some people, however, these imperfections or flaws can be more drastic, going so far as to distract from their overall facial symmetry or even affect the function of certain features. Some patients might experience poor reactions from others and might have been the subject of ridicule, bullying or embarrassment as a result of their nose.
A rhinoplasty procedure, more commonly known as a nose job in Sydney, is a plastic surgery treatment that is reserved for the cosmetic enhancements and alteration of the nose, nasal bridge, nostrils and surrounding area. If your nasal structure distracts from or affects your appearance or impacts your breathing or nose function, a nose job might be right for you.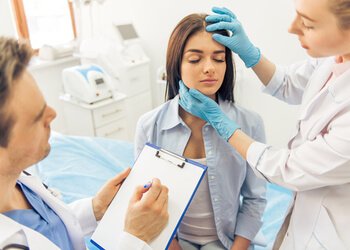 For many patients, the first step towards a refreshed appearance and enhanced life is simply setting an appointment for a consultation. 
Dr Alan Evans of Refine Clinic is an expert Ear, Nose and Throat surgeon in addition to being a licensed Facial Plastic Surgeon. He has decades of experience performing nasal surgery on patients for both aesthetic and reconstructive reasons.
Patients who are considering a revision rhinoplasty can also consider talking to Dr Evans about their options. 
Recovery After a Nose Job
When considering a rhinoplasty, it's important to think about all the aspects of the surgery. Before asking "should I get a nose job?", patients should consider whether they can take the time off to recover and relax. It can often take up to a year for patients to fully heal after rhinoplasty, but the majority of pain and inflammation typically subsides after the first week. During this time, it's recommended to take time off from work and general responsibilities. 
Naturally, the nose job healing process may vary slightly for everyone, but patients can expect some redness, swelling, discomfort and bruising in the first 24-72 hours after surgery. During this time, patients will be given instructions to follow when sleeping or showering to help reduce inflammation and risk of infection. Most patients will be required to wear a splint and soft dressing will be packed inside the nose to hold it in place while the new tissue heals. After 10 days or so, patients will start to see extreme improvement in any discomfort, the splint and dressing will be removed and swelling will have significantly subsided. 
If you wear glasses, you will need to look into alternative options for up to six months, as patients will be instructed to avoid placing anything on the bridge of their nose. Wearing makeup in this area is also not advised, even if it is natural or "chemical-free". Certain headgear should also be avoided.
Finding a Reliable Surgeon
Finding a good surgeon can help you feel more comfortable during the entire experience. Look for a highly-qualified physician with experience in ENT surgery and Facial Plastic surgery. Feel free to ask about a surgeon's education and patient success during the initial consultation with a facility. Looking at "before and after" pictures can also help patients get a better idea of what can be expected from a nose job in Sydney. 
Dr Evans has been performing nasal surgery for over 25 years. He works closely with the patients at Refine Cosmetic Clinic to deliver beautiful results and offer a second opinion when needed. Our facility will help you schedule follow-up appointments and wellness check-ins to ensure you are healing as expected. In the event of a complication or undesired side effect, our surgeons will keep you in the loop and help you understand your options. 
Our facility is conveniently located in Bondi Junction and happily serves the men and women residing in or travelling through Sydney and the surrounding states in NSW.
Call us today at (02) 8599 7161 to schedule a complimentary consultation!