Are you considering a rhinoplasty procedure to correct imperfections or issues you may have with the overall shape or size of your nose? You are not alone! Rhinoplasty is one of the most popular cosmetic surgery procedures and typically the most requested facial procedure for younger adults. Issues with the structure, size or shape of the nose often stem from childhood, and many patients recall feeling insecure or embarrassed about it as a child. Some have even experienced bullying or teasing from peers due to a protruding nose or bumps on the bridge. 
For others, a rhinoplasty procedure can be more than just an aesthetic procedure. Nasal surgery is also an excellent solution for children or adults who suffer from complications in the nose. This can be issues related to breathing and can be alleviated through surgery. Popular cases for this include a deviated septum or patients who may have blockage causing sleep apnoea or snoring. 
Regardless of the reason, before undergoing rhinoplasty surgery, one of the most important steps is finding a reliable physician who can help address your concerns safely and successfully. In Sydney, finding a surgeon that meets your aesthetic needs and has availability that matches yours can take some searching.
It's important to remember that not all surgeons may perform their procedures the same, so be sure to schedule consultations with different facilities that offer rhinoplasty. This will allow you to ask any questions you may have about a nose job. 
The Importance of Your Introductory Consultation
During a consultation with a rhinoplasty surgeon or plastic surgery expert, you will be able to ask about rhinoplasty before and after. This can include what you can expect before and after the surgery as well as any instructions you might need to know to plan accordingly. Some facilities even offer before and after pictures of past rhinoplasty patients to help you get a visual idea of what to expect. This can help give you a better idea of what your results may be and determine the success rate of the surgeon. If you find they are a good fit, you can start discussing how to move forward with the procedure! 
This is also the time to ask any questions about the surgeons at the facility, what their level of training and education is, and how many procedures they have performed. Some plastic surgery facilities offering rhinoplasty have an Ear, Nose and Throat surgeon on staff.
At Refine Cosmetic Clinic, for example, our lead rhinoplasty surgeon is an ENT and Facial Plastic Surgery expert with decades of experience performing nose jobs on patients. He is also skilled in secondary surgeries, such as revision rhinoplasty.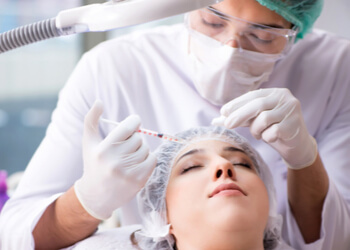 Patients will also be able to explore the potential results of a nose job and what type of approach may be used to help achieve the anticipated outcome.
The amount of correction you need and the type of changes desired will determine how your rhinoplasty is performed.
Your surgeon will discuss the different approaches with you and help you understand what you can expect from rhinoplasty, before and after. 
Preparing for Rhinoplasty Surgery
There are going to be specific instructions your surgeon gives you for your rhinoplasty, before and after the procedure. For some patients, this will require certain lifestyle changes, such as quitting tobacco or cutting back on alcoholic beverages. Patients who smoke and drink are at a higher risk for complications during plastic surgery.
Other changes you might need to consider for your rhinoplasty before and after are the use of NSAIDs and certain medications. Even over-the-counters like ibuprofen can increase your risk for bleeding during a nose job. Because of this, your surgeon may advise you to discontinue use for up to several weeks prior to your rhinoplasty appointment. 
The day of your surgery, you will be placed under general or local anaesthesia, which will be discussed ahead of time with your doctor. Depending on the correction, your surgeon may perform an open or closed rhinoplasty. You may want to discuss with your surgeon the success rate of both open and closed rhinoplasty or before and after pictures of both types of procedures to get a better idea of what may be best for you. 
There are also some tips you can follow before your nose job to help you get through the surgery with ease and potentially speed up the healing process. For example, many surgeons and plastic surgery professionals will advise that patients fill prescriptions ahead of time so you can have any medicine available on hand after your rhinoplasty.
It's also a good idea to stock up on soft comfort foods that are easy to chew for the first few days, plenty of water, and clean laundry. You'll be limited to the things you can do for at least 24 – 48 hours after your nose job, so be sure to plan for your rhinoplasty before and after.
Your Life After Rhinoplasty
The first few weeks after your rhinoplasty procedure will likely be the hardest. You will experience some bruising, swelling, and potential fluid build-up in the area surrounding your nose job. Many patients will start to see a difference in their appearance a few days after rhinoplasty. Before and after pictures will likely be taken by your surgeon at least a few months after your procedure, however. 
Most patients will be fully healed within a year after their rhinoplasty. To learn more about the procedure, schedule a free consultation with the team at Refine Cosmetic Clinic! Call us at (02) 8880 5116.