Almost everyone has a feature or small blemish on their body that they may dislike or want to change. For many of us, it can be ignored or covered with clothing or make-up and easily forgotten. However, for others, it can be a source of ridicule, self-image issues, and even low self-confidence. An imperfect nose shape, such as a wide bridge or protruding tip, can be large causes of concern for many patients aesthetically, for example. Thankfully, there are ways you can address these issues and improve your overall appearance!
Rhinoplasty surgery is a popular solution for many men and women who struggle with the shape, size or structure of their nose. In Sydney, it is one of the most common facial surgeries performed for cosmetic enhancement. When performed by a highly qualified plastic surgeon, patients can achieve the perfect nose shape for their facial structure. The procedure is intended to help enhance your overall appearance. 
For some patients, rhinoplasty surgery can help improve their overall quality of life and deliver a more harmonious facial appearance. If the nose is disproportionate or uneven in relation to the other features on the face, it can distract from the overall appearance. Nasal surgery can also help to improve the function of the nose if patients struggle from breathing issues. 
Why Consider Nasal Surgery
The goal to achieve a balanced appearance with a perfect nose shape for their overall facial contour. The nose is the focal part of the face, so an imperfect structure can aesthetically imbalance your overall appearance. Many patients consider rhinoplasty surgery for the following reasons:
To repair the nose or nasal function after injury or damage
To correct breathing complications
To repair problems from a genetic or birth defect
To correct, alter or enhance the appearance of the nose
This procedure is incredibly delicate, but can help to ensure that patients achieve a more flattering nasal shape.
A nose job can be performed using slightly different techniques to help ensure a customised result that is catered to suit each patient's individual needs. 
The Rhinoplasty Procedure
A nose job is a facial surgery procedure that uses a variety of techniques to help patients alter various aspects of their nose. During the initial consultation at a surgical facility, you'll be able to discuss your unique needs and the approach that is best recommended for you.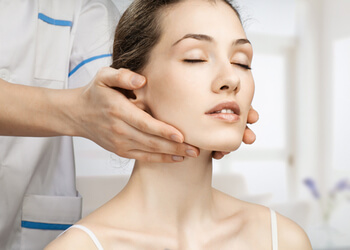 Rhinoplasty is performed as either an open or closed procedure, which is determined by the extent of treatment required to achieve the desired result.
A nose job is performed in an operating theatre, typically under general anaesthesia, although you may be offered local in some cases. 
During a closed rhinoplasty, your surgeon will make an incision in the nose. From there, they will be able to cut away any bone, tissue, or cartilage necessary to restructure or alter certain aspects of the nose.
An open rhinoplasty requires incisions to be made toward the base of your nose, so the skin can be pulled back and your surgeon has a better approach. This is typically recommended when patients want to undergo an extensive repair or enhancement. 
Once the procedure is complete, your surgeon will close the incision carefully. Whenever possible, this is done in a manner that can reduce scarring. There may be some risks associated with the procedure, as with any surgery. You can help reduce some of these risks by taking certain precautions in the days and weeks before and after your procedure. However, most patients should be aware that a nasal surgery may increase the risk of:
Severe nosebleeds
Reduced sense of smell
Ongoing pain or inflammation
Numbness around the nose or nasal tip
Infection
Difficulty breathing
Additionally, some patients find that one nasal surgery may not always achieve the desired results. For these cases, a secondary or revision rhinoplasty is recommended. 
Choosing the Perfect Plastic Surgeon
A great way to help ensure you achieve the perfect nose shape for your facial profile is to find a surgeon that understands your needs. A plastic surgeon with experience in Facial Surgery can provide you with a more knowledgeable approach. At Refine Cosmetic Clinic, our resident rhinoplasty surgeon is an experienced Ear, Nose and Throat Surgeon and Facial Plastic Surgeon, which allows him the  background to approach nasal surgery with care.  
During your initial consultation with a facility, feel free to ask questions about their surgeon and past experience. Inquiring about reviews from previous patients or even asking to see before and after pictures can be a great place to start! This will allow you to see the results from past patients and help you determine if you feel it is a good fit for your needs. Patients who are looking to correct a certain aspect of their nose, such as a bump in their bridge, may consider finding a surgeon who has experience in that specific technique! 
Recovery After Rhinoplasty
Once you have undergone rhinoplasty, in order to help the new nasal structure to heal properly, there are certain precautions you should take. Helping to reduce swelling, avoiding strenuous activities and sleeping upright can help be great tips to consider during the recovery process. Using a cold compress or ice around the nose, for example, (but not directly on the incision sites or nose) can help to alleviate inflammation around the nose, which may impact your ability to breathe comfortably.  
Recovery after a nose job can take up to several months, since there may be minor fluid build-up or inflammation that remains after the initial week or two. A splint should be worn for the first week and the nose will be packed with surgical materials to help ensure it heals properly. During this time, a humidifier is recommended, patients may experience dryness, especially while sleeping. 
After a year or so, patients will be able to enjoy their new facial profile and appearance! To learn more about rhinoplasty procedures or to get started towards undergoing a nasal surgery in Sydney, contact us at (02) 8880 5116! We offer a free initial consultation at our facility in Bondi Junction.