Did you know that rhinoplasty procedures are not just for cosmetic reasons? Many patients opt to undergo a rhinoplasty procedure to help address issues unrelated to their appearance. For example, patients who suffer from sleep apnoea find that rhinoplasty surgery can help to alleviate breathing issues and snoring related to the condition. If you or a loved one suffers from sleep apnoea, they may find relief by visiting a plastic surgeon with a focus on facial surgery!
Sleep apnoea is a sleep disorder that can be considered fairly serious and impactful upon the lives of many Australians throughout the country. Obstructive sleep apnoea (OSA) is one of the most common sleep disorders and can affect people of all ages and genders. It can cause patients to temporarily stop breathing throughout the night and may be associated with heavy snoring. There are many symptoms of OSA and varying levels of seriousness among patients, but it can often cause disruptive sleeping for both patients and their partners and impact their ability to get a restful sleep. 
Thankfully, nose surgery for sleep apnoea is an excellent solution for patients who struggle with this ailment! At Refine Cosmetic Clinic, our resident Facial Surgeon is also an Ear, Nose and Throat surgeon, which provides him with added experience in the field of functional rhinoplasty. We recommend visiting a plastic surgeon who has performed the procedure before and understands the delicate nature of a functional rhinoplasty surgery. This can help you reduce any related surgical risks! 
The Dangers of Sleep Apnoea
Sleep apnoea can be extremely disruptive to life. For patients with particularly severe OSA, it could impact their relationships, their health, their work and, of course, their sleep! Some symptoms of the condition include:
Excessively tired and lethargic during the day
Noticeably loud snoring
Episodes where breathing stops during sleep
Waking up abruptly, sometimes combined with gasping or choking
Awakening with a sore throat or dry mouth
Headaches in the morning or throughout the day
Difficulty concentrating 
Constant mood changes, such as irritability or even depression
High blood pressure
Night sweats
Diminished libido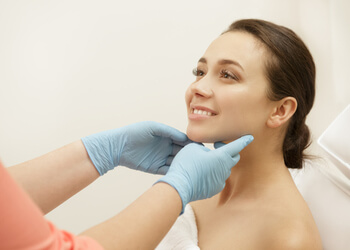 Lack of sleep can lead to impaired focus and cause dangers while operating certain machinery, such as driving. Some patients find that they cannot sleep comfortably through the night or that snoring may be louder when in certain positions (such as on the back). Even if you feel that your symptoms are mild or generally "not that bad", visiting a doctor can be a great way to determine whether you have sleep apnoea. 
When to Consider Nose Surgery for Sleep Apnoea
Are you considering a nose job to correct sleep apnoea? You are not alone! The procedure has been shown to help patients who struggle with the disorder by helping address nasal obstruction. For many patients, it can help to reduce the need for a CPAP machine or another device that can help control breathing. While it may not eliminate the need for other assistance, depending on the severity of your condition, nose surgery for sleep apnoea may be an excellent treatment option for some. 
 A nose job is a surgical procedure that can help to physically remove the obstruction in the nasal passage and even rearrange tissue, cartilage or bone to help improve the overall function and structure of the nose. Typically, rhinoplasty surgery is most commonly used to address aesthetic imperfections, such as size or shape, but it can prove beneficial for patients who need to address functional concerns. Patients who may have sleep apnoea can also consider combining a functional and aesthetic rhinoplasty to help achieve their desired results while also correcting any breathing complications! 
Rhinoplasty is a delicate procedure that should only be performed by an expert plastic surgeon with accreditation and experience in their field. Not all surgeons are versed in functional nasal surgery, either, so it is important to ensure that you ask questions about their surgical experience. Asking for before and after pictures of patients who have undergone a procedure similar to what you need can also help give you a better idea of your surgeon's capability. 
Recovery From Nose Surgery
The recovery process from a nose job is an important aspect to consider. You may have to alter your lifestyle to ensure that you can comfortably undergo surgery and recovery. For most patients, there will be swelling, redness and bruising following the surgery and it may last for up to two weeks – although the brunt of it will typically subside after a few days. Patients can opt to administer a cold compress or ice around the area to help speed up the healing process.
Sleeping upright is also recommended, as this can help reduce fluid build-up, discomfort and swelling. You may experience some dryness, since the nasal passages will be obstructed during the healing process, so investing in a humidifier and staying hydrated throughout the day and night are also highly recommended to ensure comfort. 
During your initial consultation, you will be able to discuss all the important aspects surrounding a nose job. To schedule a free appointment with an expert consultant at our Bondi Junction facility, call us today at (02) 8880 5116!