A nose job, medically known as a rhinoplasty, is a plastic surgery procedure that has been popular for years, thanks to its ability to restructure this feature. Your nose is the focal part of your face, and it is often the first thing that people notice when they meet you. For patients who have a nose that is crooked, disproportionate or has been affected by injury or genetic defects, this can be extremely distressing and cause aesthetic imperfections in their appearance. 
The nose job procedure often attracts younger patients, since nasal imperfections often stem from birth or early childhood, and can be the target of bullying and teasing by other children. Unfortunately, many patients are put off by the potentially large price tag, and they start to look for alternative options to achieve the desired results. Travelling overseas for plastic surgery, a practice known as medical tourism is often considered by patients looking for a cheaper option. 
A nose job in Thailand is becoming an increasingly popular occurrence because of its easy accessibility and cheap cost. Unfortunately, this can also present patients with an array of risks and increase their potential for surgical complications or issues during recovery.
Before making a decision, it is recommended that you weigh your options and fully consider the pros and cons of travelling abroad for a delicate surgery like rhinoplasty.
Things to Consider Before Getting a Nose Job in Thailand
Considering a nose job? You're not alone! Thousands of patients enjoy the benefits of a rhinoplasty procedure in Australia annually, thanks to the talents of talented plastic surgery professionals. At Refine Cosmetic Clinic, our ENT and Facial Plastic Surgeon, Dr Alan Evans, prides himself on helping create satisfied customers using expert techniques and an experienced approach. You should never cut corners when it comes to a nose job. Thailand practices may not offer the same level of care and attention that is found at TGA-approved facilities.
In Australia, medical facilities, including plastic surgery centres and operating theatres, are subject to regulations and rules to help ensure the safety of patients. Sterile equipment and medically sound techniques are required for procedures like a nose job. This is to reduce the risk of infection during the procedure. In countries like Thailand, however, it can be harder to measure the level of care they are following. If patients are exposed to tools that weren't properly sterilised or equipment that is prepped correctly, complications may occur after rhinoplasty. In some cases, these complications could even be fatal or lead to long-lasting issues.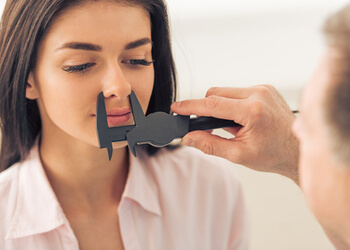 Scheduling a consultation with a plastic surgeon in Sydney for a nose job is an excellent way to get started. IF you are worried about cost, it's recommended to find a customer-centred facility that offers free consultations and is willing to help answer any questions patients may have.
At Refine Cosmetic Clinic, for example, we offer complimentary appointments with our expert consultant, who works closely with our surgeons. They can perform a simple examination and assessment of the area and help determine if you are an eligible candidate for rhinoplasty.
You can also discuss the pros and cons of travelling for a nose job to Thailand. They can help you weigh your options and give you reliable reasons why it is not advised. 
Risks of Overseas Cosmetic Surgery
When considering a nose job, the cost is typically one of the patients' biggest concerns. Plastic surgery like rhinoplasty is generally labelled as an elective procedure. This means patients generally have to pay out of pocket to receive correction. Lower costs associated with overseas surgeries can often be appealing to patients who are desperate to receive correction but are unsure how to pay for a high-quality procedure. It's important to remember that cutting corners can often lead to patients having to pay more to correct a botched nose job with a revision rhinoplasty. Additionally, the travel and accommodation costs are likely to be expensive and can add significantly to the final amount patients are spending.
Thankfully, many facilities work with you to understand your budget as well as your aesthetic needs. Contrary to popular belief, plastic surgery is not just for the rich and famous! Refine Clinic, like many other cosmetic facilities in New South Wales, offers financing and payment plan options. This allows patients to break down the cost into manageable monthly payments, so they can slowly pay off a rhinoplasty in a timely manner. We also accept various payment options, so patients can pay with a credit card if they choose. 
A nose job in Thailand may require the entire cost of treatment upfront, which could prompt patients to tap into their savings or put themselves into debt for a nose job. Many illicit surgeons will use manipulative techniques to try to get as much money as possible for a low-quality nose job. It's important to be wary and ask plenty of questions. A legitimate surgical facility should be willing to discuss the breakdown of the cost and how the money is allocated to various necessary components, such as the cost of anaesthetic, surgeon's fees and more. 
Trust the Experts in Australia
Travelling overseas for a nose job can come with a slew of added risks. Not only will patients have to worry about the side effects or complications that may present themselves with an expertly performed nasal surgery, but they will also have to worry about the added risk of exposure to poor surgical techniques or tools. Extended swelling and inflammation could lead to longer recovery times and increased discomfort.
Call Refine Clinic today at (02) 8880 5116 to learn more about cosmetic surgery right here in Sydney.